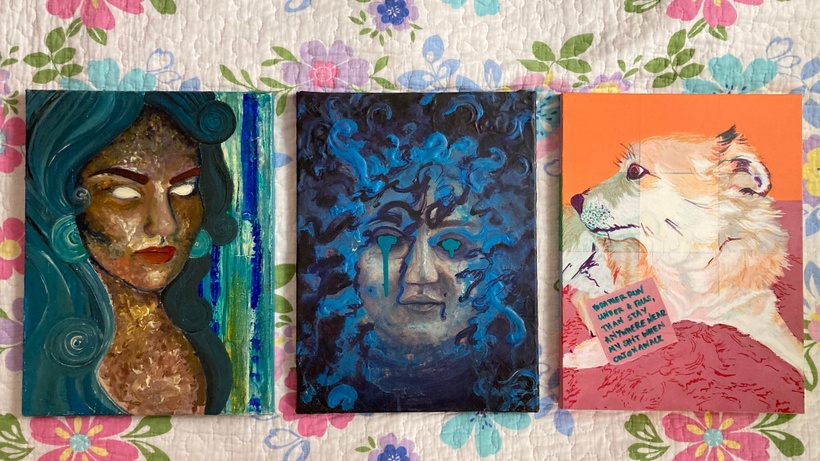 Hi! Hello. How are you, my favourite people in this universe? 👩🏻‍🎨
As I was recently back in Cork, and briefly reunited with my extensive archive of art, I came upon a couple of paintings on stretched canvas that have been waiting for their forever homes FOREVER. The two self-portraits are from early 2014, and were completed as part of the Art, Craft & Design portfolio preparation course which I attended at St. John's Central College. They are both in acrylics, with the Medusa piece having an oil paint layer on top as I eventually reworked it a couple of years after its initial completion. Probably sometime in early 2019. The original version had a completely opposite colour story would you believe – in bright orange, yellow and red. I've even managed to find a photo of that state of its being, in evidence: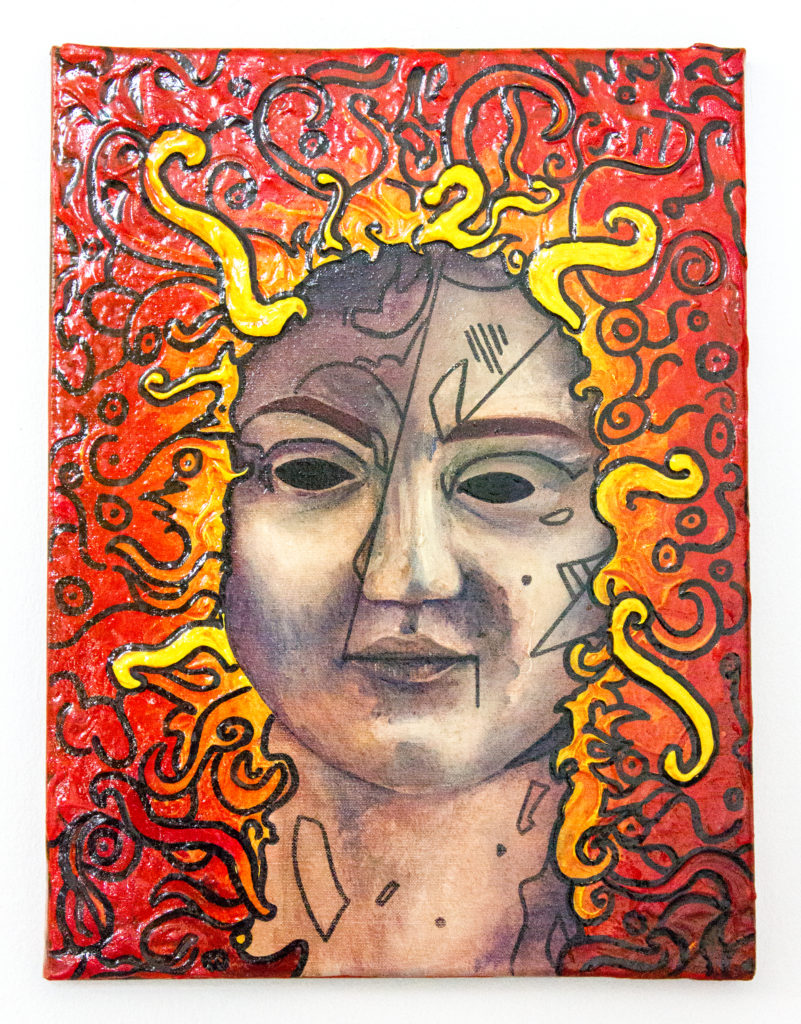 Now my bet is that it does look less scary now that it is reworked. And it matches the Pinup self-portrait colour story. Which close up looks something like this: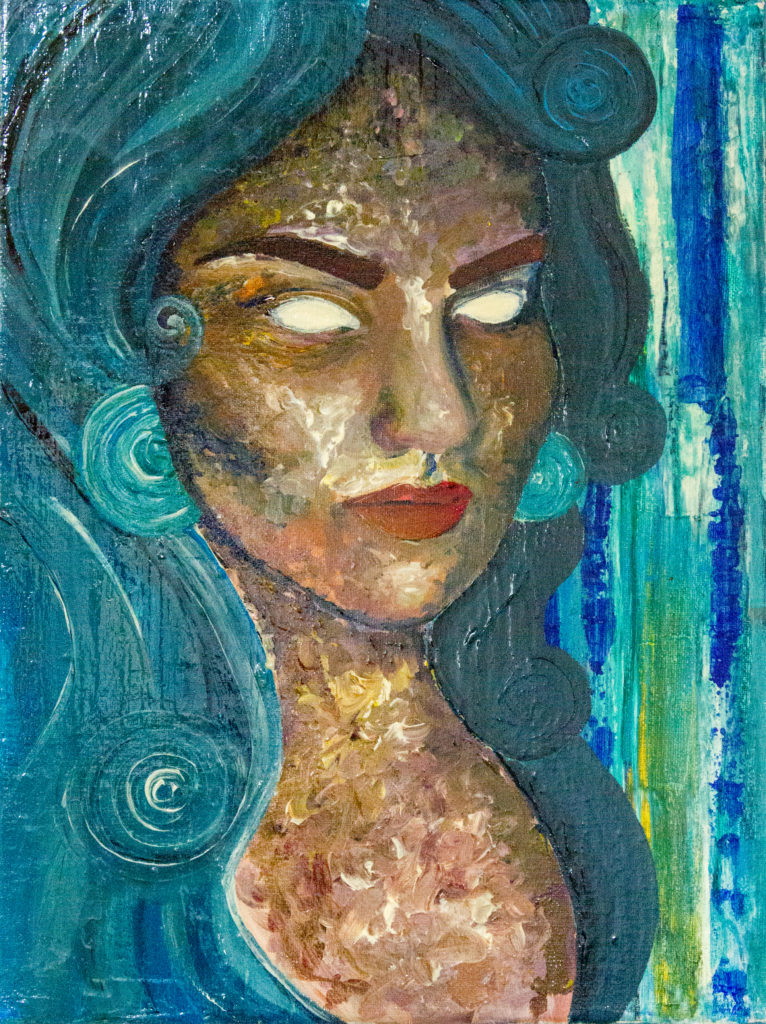 These two paintings are based on two very different photos of me, and sort of represent a flattering and an honest view of myself. I'll let you make the guess on which one is which! And as for the Lucky portrait, well it was created with the intention of subverting the concept of shame – through a strikingly bright colour palette – into my signature humorous filter on everyday situations. It is the only piece in this trio of works which isn't varnished, so appears of a more matte texture: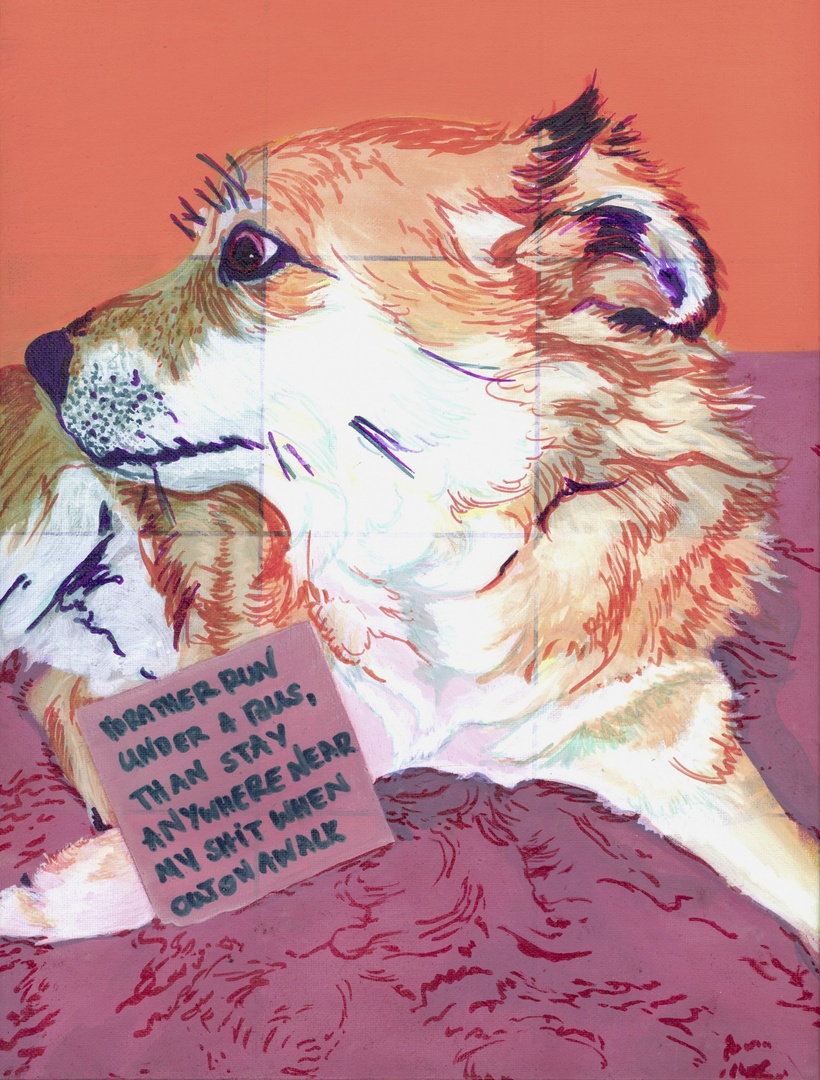 If you were HYPOTHETICALLY asked which one of these pieces YOU would like to receive in a future giveaway (open to all levels of Patreon supporters), which one would you choose? Please cast your vote below. Full disclaimer however, I am personally very much aware of the progression of skill which is evident in these pieces lined up side by side with each other. But I've also grown to appreciate all levels of art making more, and at the end of the day it is all very subjective. So if you rather not receive ANY of these paintings in a giveaway, don't feel bad about it. They've all managed to be featured in exhibitions within their short lifespan, and I'm sure will live out the rest of their lives in peace. Besides, I've enjoyed featuring them in this little write up regardless of the outcome of this poll. Perhaps discussing influences and processes to do with older works could be something that can become a more regular part of this awesome Patreon page?
Take care You squishy delicate human form of a person! 💕
PS – to comply with Patreon's stance on raffles, lotteries or giveaways the legal validity of this future giveaway is upheld by the 4th mentioned option, of determining the winners of this giveaway on a first come/first serve basis. Based on the order of comments made under this post. And due to some logistical circumstances, this giveaways prizes are reserved for dispatch in January of 2021. As that's statistically the grimmest time of the year, when we're all going to need a bit of cheering up more than usually. And by then you're morelikely to forget about this giveaway as well, so any winnings will come as an even more unexpected surprise. In conclusion: if you'd like to actually receive any of these paintings as a prize, in January of 2021, comment below this post with your preference. Open to all Patron levels. Good luck!