Vegan art poster exhibition in aid of the Vervet Monkey Foundation in South Africa.
It's the 10th anniversary of the event, and they are putting on a 2 day street festival with a 1 day animal rights conference, held at a separate location. There will be at least 60 exhibitors, a live music program on both days, cooking shows, vegan activists with lectures on both days. In previous years about 10,000 visited the market, so this year they're expecting even more! For more information see the poster at the bottom of this post and visit their website.
By collaborating with the Art Of Compassion project the exhibition aims to raise funds in aid of the Vervet Monkey Foundation in South Africa. They are a vegan sanctuary who do some amazing work. Please have a look at their video above to learn more.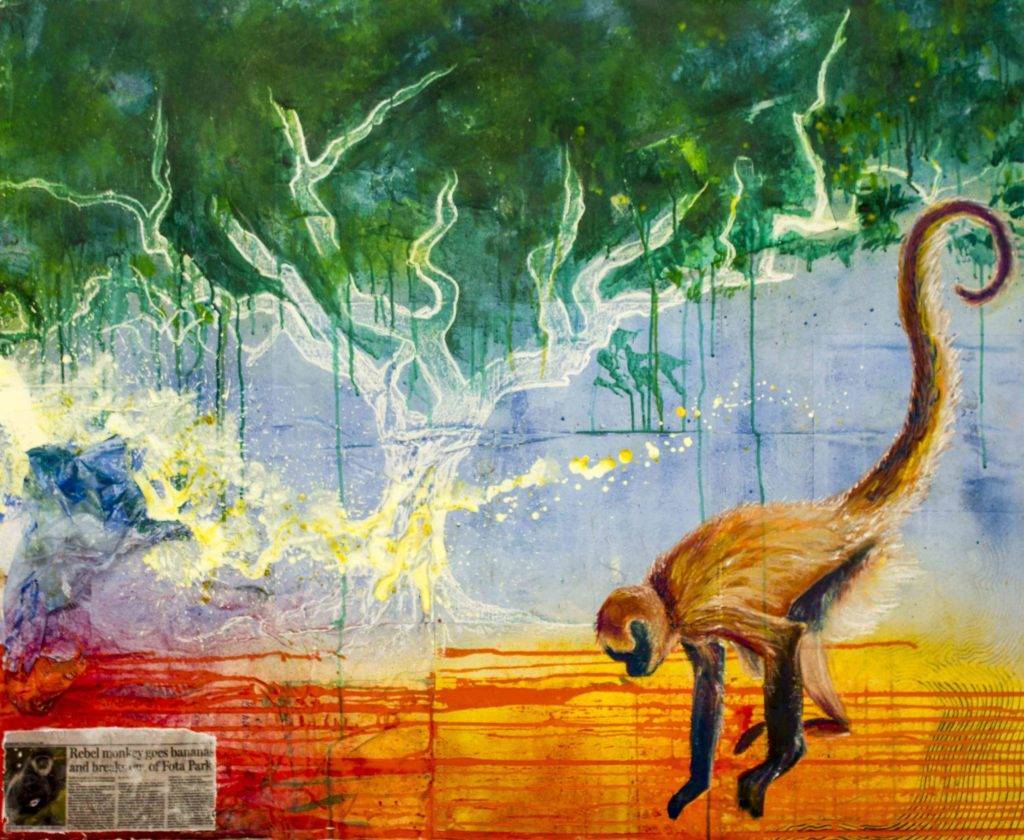 All the posters will be roughly A3 size or of custom measurements, and on sale for 15€ with the proceeds donated to the Vervet Monkey Foundation. The image that I've contributed is that of the Colobus monkey from my 2017 autumn/winter collection. It's an acrylic painting with details in ink, pencil, soft and oil pastel, with image transfer on re purposed paper assemblage, measuring 111cm by 133cm. It was inspired by an article in a local newspaper about these monkeys escaping from FOTA wildlife park, which is in Cork, Ireland. Based from that clipping of the newspaper article, and a photo of the same species of a monkey – taken by me years ago at Dublin zoo (visiting as a child I was ignorant of their futility), I created this painting. Having been to FOTA arboretum on the same week that the article was published, we passed the FOTA wildlife park and several of these monkeys were clearly seen among the trees above the outside fence of the premises. Easily swinging their bodies across the railway separating the territory of the park and the nearby houses. With no employees in sight.